The file explorer is handy when you want to open files in the editor. It's quicker than using a file open dialog window and you are able to use two file explorer panels.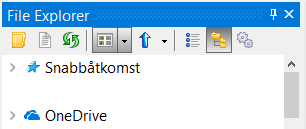 Toolbar buttons
---

Explorer
Open Windows Explorer using the current path.

Current document folder
Browse to the current document folder.

Refresh
Refresh the explorer list. Use this if you have disabled auto refresh in options.

Views
Select how files and folder are displayed in the list view.

Up
Browse to the parent folder. The drop down list contain favorite folders and menu items to add new folders.

Show/Hide drop down list
Display a shell drop down list.

Open/Close folder tree
Display a folder tree.

Explorer options
There are several options available to change the behavior and display of the explorer tree and the explorer list view.
Filter
---
Use to filter the display in the shell list box.

+ Enter a new filter (e.g. *.aspx;*.cs) and press the plus button.
- Select a filter and press the minus button to remove the filter.